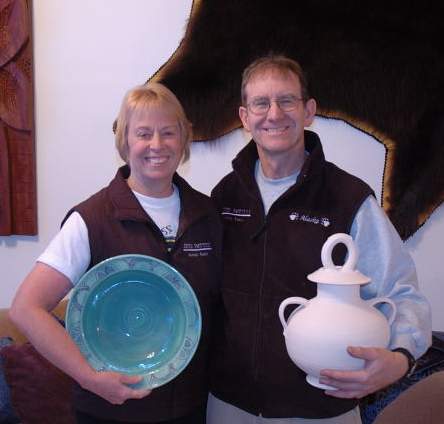 After taking a summer pottery course together in college in 1971, we knew that sometime we would pursue our dream of being studio potters. Twenty years later, after retiring from teaching in the Seward, Alaska schools, we began fulfilling this long time dream of making and selling our own stoneware pottery.
Irvin Pottery began when our neighbor insisted that we try selling our pottery that we were making at a local Christmas fair. The people of our little town purchased our pottery and even gave us compliments and thus began our journey into our clay business. Our goal then (and still is) was to make high quality tableware that people will enjoy using for many years to come.
We believe it is important to have handmade items and art in our lives. It keeps us grounded to nature and to those around us. This belief is reflected in each piece of pottery that we make. The colors for each set are carefully selected to reflect nature around us such as the sunshine on a summer day, the fall colors on the mountains that surround us, the blue of Resurrection Bay by our town and the greens on the floor of our old growth forest around our home. This connection helps us uncover fathomless ideas each day we work.
We feel truly blessed to live and work in such a beautiful place on earth. We now have our own studios and fire our work in electric, raku and salt kilns. We look forward to each day with great anticipation as we head to our studios.