Master Artists
---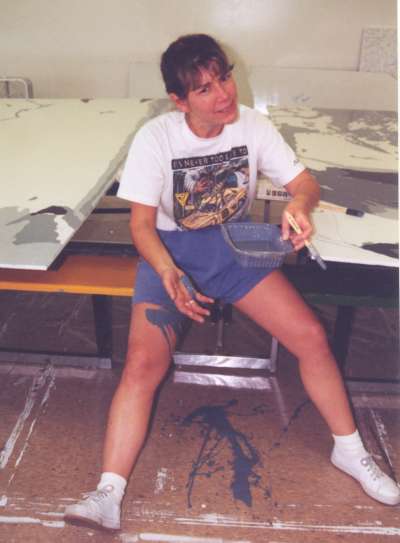 Jennifer Headtke
Mural: Postcards of the Past & The Dawn of Aviation. 1999, 2001
Jennifer Headtke, a Seward resident since 1987, is a lifelong art enthusiast
and founding member of the Seward Mural Society (SMS). A self-taught artist,
Ms. Headtke enjoys a wide spectrum of creative pursuits including murals,
watercolor, aquamedia, life drawing, and making jewelry. In her tenure with
the SMS, she has helped create murals in this small, waterfront town since 1999,
either as master artist or collaborator.

Her interest in murals began when she saw a need for public art in Seward.
She researched successful mural programs, and gained inspiration and
information at Mural-in-a-Day workshops hosted by the Lompoc Mural Society
in California. Her vision of art is as a life-promoting and joyous activity
that brings people of all ages together and adds to the esthetic beauty of
our communities.

Jennifer and her husband Russ live on the Kenai Peninsula near the beautiful Trail River. She is stepmother of three, and proud grandmother of four adorable grandchildren. When she isn't painting murals, Jennifer operates
the Ranting Raven Bakery and Gift Shop in Seward, Alaska.

www.trailriver.com/rantin_raven.htm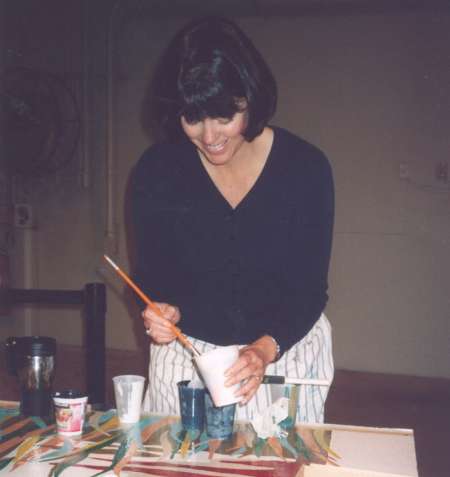 Susan Swiderski
Mural: Mount Marathon 2000
Many of Susan's oil paintings depict parts of roofs of commercial and/or residential buildings with backdrops of various grand mountains in the Seward area. The mountains are timeless and their beauty and strength speak to everyone. Susan's paintings reflect the unique juxtaposition of natural forms with manmade forms found in Seward and many include historical buildings which correspond with the origins of Seward in 1903. Other paintings are inspired by the dramatic seascapes and landscapes of Resurrection Bay and nearby waters. Susan's oil paintings are striking with bold compositions and use of bright, vibrant colors that depict the many clear and cold winter days when the air is thin and fresh.
Susan has created art for the State of Alaskaa One Percent For Arts Program and has had her work purchased by the State Art Bank. Her paintings have been accepted in 8 All Alaska Juried Art Exhibitions at the Anchorage Fine Arts Museum.
Alaskan artist, Susan Swiderski, lives in Seward, Alaska and has resided in Alaska since 1969.
---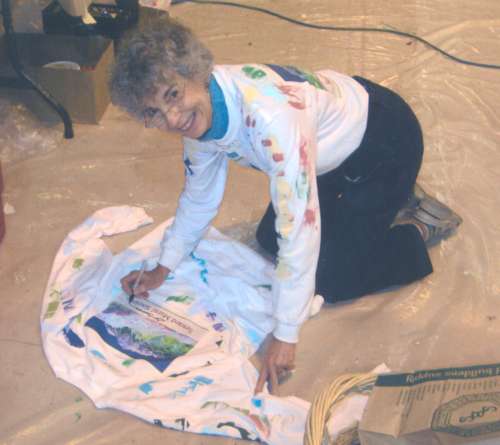 Dot Bardardson
Murals: Remembering Exit Glacier, 2008; Mount Marathon Climbing Wall, 2008; Our Flag Flies in Washington, 2009
Dot Bardarson likes to stretch your imagination. Her Northwest themes are exuberant, blending colorful, well balanced design with a willingness to take risks. There is a motion to Dot's art extending the purpose to the edge and beyond.
She is well known for her award-winning watercolors and serigraphs as well as her ebullient personality. Dot Bardarson came to Alaska as a young bride and deck-hand aboard an Alaskan cannery tender on which she lived for 2 ½ years. Her passion for art found her sketching whenever she could fit it in between pewing fish and paying fishermen for their catch.
She raised 3 children in various Alaskan canneries and finally settled in Seward where she built a thriving art gallery in the harbor that she ran for 20 years.
Her interest in promoting the arts is evident in her history of serving as art juror, artist in residence, amateur theater set designer, and past board member of the Alaska State Council on the Arts. Her public art commissions number 6. Dot Bardarson was the master artist for the large 2008 mural, "Remembering Exit Glacier" and "Our Flag Flies in Washington" in 2009.
See more of her work at: http://bardarsonstudio.com/
---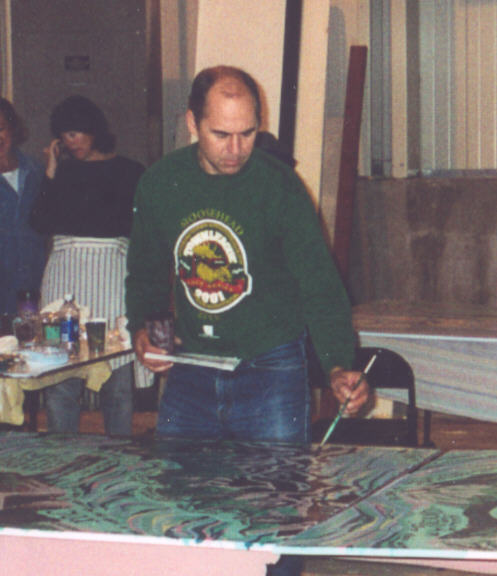 Tom Missel
Mural: Tribute to Commercial Fishermen. 2003
At a young age, Tom realized he was destined to be an artist, occupying much of his time drawing. Raised in St. Louis, he studied art at Washington University and Fontbonne College, gaining a basic foundation of art essentials. His love of nature and longing to escape the urban setting took him on a long journey westward, crisscrossing the western U.S. With a thirst for adventure coupled with a desire to capture the beauty that nature offers, Tom found himself in Alaska, where natural wonders abound. Living in coastal Alaska and commercially fishing in Prince William Sound as well as other areas of the state for nearly three decades has provided unlimited material and inspiration for Tom's art. His many experiences in remote areas over this vast region has instilled a deep, intimate connection with the natural world virtually untouched by man.
Mostly self taught, Tom now paints mainly in oils, but has also painted in watercolor for over 15 years along as well as acrylics when appropriate for a particular project. Much of his skills were developed over many years of self education and practice, dedicating his free time to studying artwork and writings of artists past and present from his ever growing library. Tom is a member of the Oil Painters of America. He has won awards in several juried art shows and has participated in both group and solo gallery shows.
During the spring and summer months Tom works on his fishing boat "Tailwalker" pursuing wild Alaskan salmon on the waters of the Gulf of Alaska at the Copper River Delta and in Prince William Sound. This remote, rugged area has provided numerous scenes put to paint and canvas in the past.
"The quality of light and atmosphere in Alaska highlight this glorious place. There is a painting at every turn. I want to share the beauty I find and capture the mood of my surroundings both grandiose and intimate."
---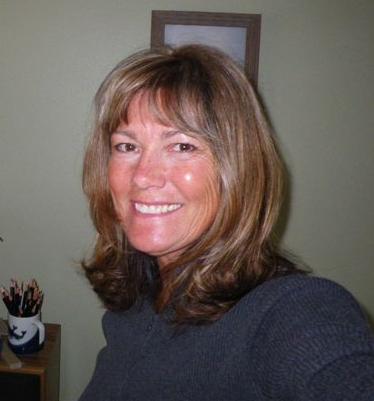 Jeannie Shirk
Mural: Postcards of the Past. 1999
Jeannie has called Alaska home for over 42 years, living all over the State, settling here in Seward. Since moving to Seward, 18 years ago, she has been a professional artist/potter and teacher, winning various awards for her pottery as well as her fine art pieces. Jeannie has also had many solo art shows during her art career.
Jeannie loves to share her knowledge of the arts with students on a one-on-one basis as well as in group settings. As in any small town, there is always a need for volunteers to work with students and teachers and she has happily worked with all whom have asked. Jeannie has also worked on "Artist-in-schools" projects with Jr. High students, High school students and Elementary level kids. She was commissioned to work with students and make the Seward Elementary School sign that hangs outside of the school building.
Along with all of her public works, Jeannie has designed and created over 60 custom ceramic tile art projects and ceramic sinks for private homes, new and remodeled.
"I love what I do, and love to share what I know."
---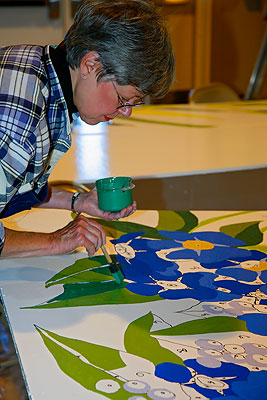 Gail Niebrugge
Mural: Alaska Wildflowers. 2006
Gail Niebrugge (Knee-brew-ghe) born and raised in California has pursued art since childhood, winning a poster contest on the Johnny Jet television show at the age of twelve. The Niebrugge family fell in love with Alaska while on vacation in 1976 and never returned home, instead they established a residence in the remote interior settlement of Copper Center. Since 1995 Palmer has been home to the Niebrugge's.
Traveling by mail plane, ski plane, helicopter, boat, raft, ATV, canoe, truck and camper as well as hiking on foot, enables her to gain first-hand knowledge and understanding of Alaska's wilderness, wildlife, landscape and history. Returning home to work in the studio her love of these subjects is translated into colorful paintings.
Known throughout the world for her use of pointillism, the artist developed this technique in 1986 while confined to bed recovering from neck and back injuries. Using small dot like strokes the paintings are made from thousands of spots of color. Up close the dots dominate, but when viewed from a distance the image is sharply realistic.
Gail received a Master's Degree in Art Illustration from Syracuse University, is a signature member of Watercolor USA Honor Society, served as Artist-in-Residence for the Wrangell-St. Elias and Denali National Park, and is author of Gail Niebrugge's Alaska Wildflowers a book about her work. A five time winner in the National Diabetes Association's Holiday Art Search, Niebrugge's artwork has appeared on hundreds of thousands of Christmas cards sold nationwide to benefit diabetes research. She has completed seven major public commissions in Alaska, including a ten panel multi-dimensional artwork for the U.S. Customs in Skagway, and is serving as Vice Chair for the Alaska State Council on the Arts. Niebrugge Studio publishes reproductions of her paintings that are carried by galleries throughout Alaska.
---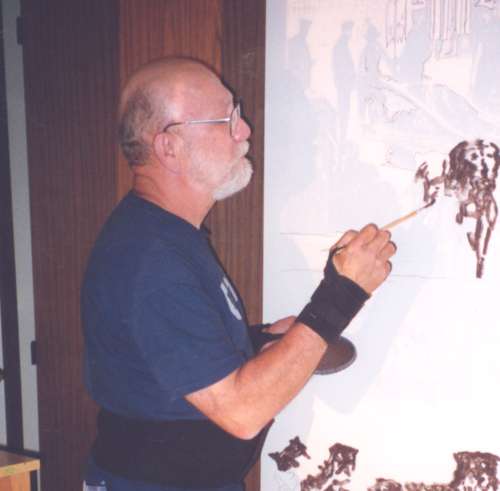 Jon Van Zyle
Mural: Iditarod Trail. 2001
"Art is his life and Alaska, all of Alaska, has been his inspiration. Artist Jon Van Zyle has seen more of Alaska in a much more unique way than most can ever hope to experience. Jon has twice completed the 1049 miles of Iditarod Trail Sled Dog Race between Anchorage and Nome. For over 25 years, he has created the yearly Iditarod poster and print series commemoration the race and his involvement. In 1979 he was made official Iditarod artist, a title he still holds today.
His acrylic paintings go beyond the race though, and encompass so much of the Alaska beauty Jon's reputation as a storyteller through his art is further enhanced by his art prints, posters and stone lithographs. Dog teams, landscapes, wildlife, Alaskan faces from native to newcomer, portray an intimacy with the land and its people. Public acceptance of his shared feeling through his art has been his greatest reward.
Jon's art career has spanned over three decades. A prolific artist, he produces many paintings a year for one-man exhibitions in the U.S. as well as Europe. His limited edition prints and posters sell out regularly with over 200 editions produced in the last 25 plus years. Illustrating children's books for prestigious publishers has earned him a reputation with a younger audience as well as many awards. Numerous books on his art have been published, including Jon Van Zyle's Alaskan Sketchbook and Jon Van Zyle's Iditarod Memories.
Jon and his wife, Jona, also an artist, travel extensively, gathering material and experiences for the continuous production of works of art. The Van Zyles live near Eagle River where they raise and train Siberian Huskies. Both inspirational and functional, the dogs play a large part in their lives together."
---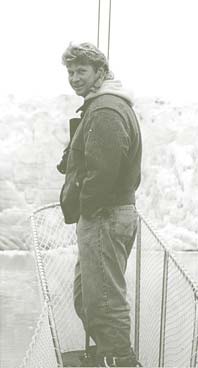 Ed Tussey
Mural: Kenai Fjords - Statehood Mural
"Alaska is a never-ending source of inspiration for Ed Tussey. Winner of national and state awards, Ed is a full-time, freelance artist who captures on canvas the majesty of Alaska's interior, coastal and marine environments and wildlife. A lifelong Alaskan, Ed lives on the Kenai Peninsula in the coastal town of Homer, Alaska, with his wife Jacki and their daughters Rachel and Rheanna.
Collectors of Ed Tussey's art are drawn to the impeccable detail with which his brush carefully defines, and realistically portrays, birds, mammals, and marine life in their natural settings. Ed's ability to accurately represent Alaska's wildlife stems from years of observing these magnificent creatures in their natural habitats on land and sea. He studied art and oceanography while attending college in Washington state. He has spend countless hours in remote wilderness areas and has traveled extensively throughout the coastal waters of Alaska, the Pacific Ocean and the Bering Sea.
The Tusseys self-published their first limited edition print series in 1985, and since then many of the editions have been collected and are listed as sold out. Ed's originals and productions can be found in galleries, museums and private collections throughout Alaska, the continental U.S., Canada, and around the world."
---
Justine Pechusal
Mural: 2009 Statehood
Along with the humpback whales, I first migrated to Alaska from Arizona five years ago to work as a sea kayak guide in Seward. For several years I split my time between these two environmental extremes of desert and rainforest while finishing a Masters in Art Education, following a BA in art history, creative writing, and studio art from the University of Arizona. I had my first solo art show, Desert, Sea and Sky, at Resurrect Art in June, 2008. This mixed media collection of pastel and watercolor pieces painted on hand-dyed paper combined images from my two homes, cacti and crabs alike. My current artwork is a blend of painting, drawing and printmaking focused on place. Curiosity, wonder, and love for wild and remote places inspires my creative work. If I'm not indoors making art about it, I'm outdoors setting up a tent and living in it.
Along with art making, teaching art to youth and community groups is an important part of my work. I have taught art in a variety of settings, including high school, college, and museums, and find helping others along their artistic journeys as joyful as walking through my own. The Seward Statehood Mural is the realization of a personal dream to create public artwork, and I look forward to future community projects!
---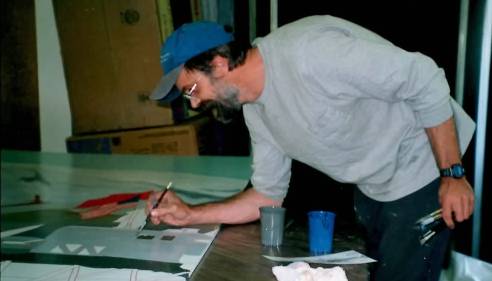 Tim Sczawinski
Mural: The Dawn of Aviation. 2001
---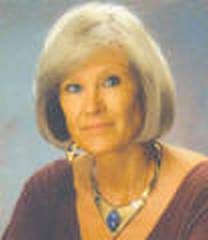 Barbara LaVallee
Mural: Senior Prom. 2010
A happy Eskimo child hiding in the closet peeking out from under her mother's parka, a Native dancer moving to the century old music of a walrus drum, or a hot tub full of friends on a snowy winter evening are just a few of the images Barbara Lavallee has offered in her popular watercolors. Lavallee, a native of Davenport, Iowa, grew up in Wisconsin and received a degree in art from Illinois Wesleyan Univ. After teaching art in Arizona on a Navajo Indian Reservation, she took a position at Mount Edgecumbe Native School in Sitka, Alaska in 1970.
Now living in Anchorage, Lavallee paints prolifically with many originals reproduced into limited edition prints. In addition, she has also become nationally known as an illustrator of children's books. Her best known is Mama Do You Love Me? for which she received the coveted 1991 Golden Kite Award for the Society Of Children's Book Writers for excellence in illustration. Lavallee is known for her happy people
Lavallee is known for her happy people. People working, playing and living with smiles on their faces. Her watercolors portray whimsical, stylized characters in vibrant colors reflecting her interest in people. Lavallee can't imagine her life without painting. "I want people to have fun. If people look and smile, then I feel the art is a success."