Tom and Sharon Irvin
Irvin Pottery
14527 Rainforest Circle
Seward, Alaska 99664
907-224-3534

One spring afternoon, we took a walk along the beach and stopped to watch a raven. The sunlight on it's wings revealed that its feathers were not totally black like we always thought. The feather's glistened with a beautiful hue of purple!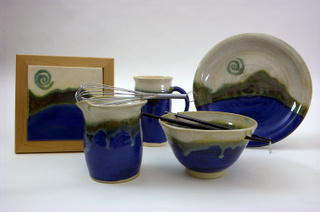 This design is one of our original designs. The blue reminds us of the North Pacific Ocean, the green from the majestic mountains surrounding our town and the white reminds us of the clouds that dominate our skies. The swirl on the plates reminds us of the sun that sometimes has a hard time shining through the clouds.
This glaze pattern is inspired by how we feel on a sunny day in Alaska. The golden yellow base glaze represents the sun. The splashes of green symbolize the greens that surround us in our short summers. The green is splashed on the yellow to show our delight and thankfulness that summer has returned to us.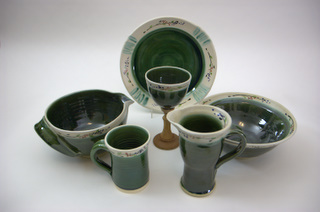 This glaze pattern was inspired by the colors just outside our door in the height of summer. The green matches the green of the devil's club leaves. The painted design comes from the elderberries and blueberries that grow on our property.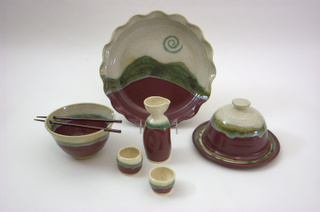 This glaze pattern was inspired by the views on the mountains around our home in Seward, Alaska in the autumn. The mountains turn a burgundy when the leaves of the bearberry and fireweed plants turn. The sage green and the browns are some of the last colors that we see when the leaves of the bushes are about to fall. The white is the "termination dust" we see on the tops of the mountains that signal the end of our summer.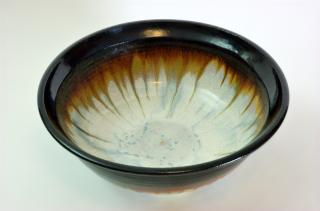 This glaze pattern was inspired by a rainy day when the raindrops were pelting on the windows.
This set of dishes reminds us of eating Key Lime Pie on a leisurely sunny afternoon in the tropics. What more can we say!!!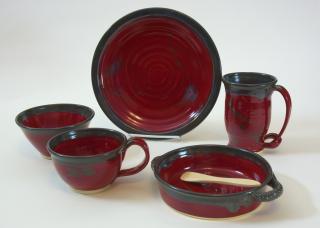 We thought along time about what to name this design and decided its only name could be Really Red.
This set of dishes reminds us of Aurora Borealis during the winter night
Examples of carved platters and bowls.